www.siddham.in
is another website having interest in siddha system of medicine. This site is hosted by
SRI P. CRISTIL ASAN, Thundathil, Kariyavattom, Thiruvananthapuram, Kerala. He is the son of Sri Ponnayanasan, continuing as a Traditional Siddha Practitioner and belongs to the Agasthiya Guru parampara of Practitioners.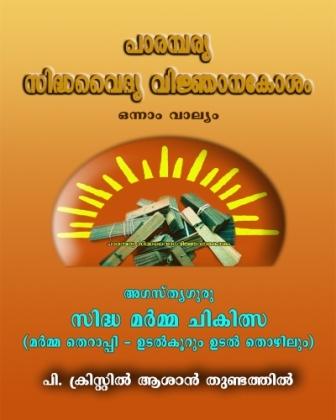 He published a book Paramparya Siddha Vaidya Vijnanakosham in Malayalam language.

The author claims that the book contains all the hidden secrets about the Marmam, injuries caused by hurting marma points and its treatment aspects with colour photos for better understanding and added that Works are undergoing for its translation in English.
This book and website is also an evidence for the Varma Science has in Origin from Tamizh/Siddha system of medicine.
Email to: info@siddham.in